Delaware Park
Facility Access
Delaware Park is dedicated to ensuring and protecting the rights of all persons in compliance with state and federal law, including the Americans with Disabilities Act, and strives to provide disabled individuals with equal access and opportunity to enjoy the goods and services provided by Delaware Park.
Anyone who is visiting Delaware Park and requires accessibility accommodation should contact a team member in the Security Department. Such team members are typically located at our entrances to the facility. If a Security Department team member cannot be located, please go to Security Dispatch located on the 1st Floor near the main entrance of the Casino.
Accessible parking is located in our Slot Lot and C Lot. A drop off/pick up zone is available at the Casino Main Entrance near Slot Valet. Elevators are located on the 1st Floor lobby of the Casino and 1st Floor of the Race Clubhouse. Accessible restrooms are located throughout the facility. Service animals are welcome however they must be properly identified. All other animals and pets are prohibited.
Guests who wish to request an accessibility accommodation prior to visiting Delaware Park may contact Security Dispatch at (302) 994-2521 x 7450. Questions, complaints or concerns shall be directed to the Department of Human Resources at (302) 994-2521 x 7158 or 7612 or HR@delawarepark.com.
Delaware Park takes your security very seriously. We do not tolerate inappropriate behavior that could in any way jeopardize the safety of our guests and team members.
We continuously monitor our facility and adjacent parking lots and work closely with the Delaware State Police and Delaware Division of Gaming Enforcement to ensure a safe and secure environment.
Security escorts are available both to and from our parking lots at any time by calling Delaware Park at 994-2521 ext 7450 or by asking any Delaware Park Security Officer.
First Aid
The First Aid center is open 24 hours a day, 365 days a year. Located next to the Security Office, first level grandstand, just outside the Kirkwood Highway doors. Emergency Medical Technicians (EMT) are on staff during all operating hours.
Gift Card
The Casino at Delaware Park gift cards are the perfect choice for everyone on your shopping list. Redeemable for food at any of our food and beverage outlets. To purchase, just stop by the Casino gift shop or Legends Restaurant.
Slot Tickets are available and can be handled directly by the Guest. Guest deposits cash in to any Slot Machine. Guest immediately pushes CASH OUT button and is issued a Slot Ticket. The Slot Ticket is equivalent to a Gift Card in that it can now be inserted in to any Slot Machine and used just like cash.
Expiration: Slot Tickets expire one year from date and time of issuance.
Gift Mutuel Track Vouchers
Can be purchased from any track teller. A Track Voucher is equivalent to a Gift Card in that it can be inserted in any self-service mutuel machine and used just as cash to make a wager. Track Vouchers may also be presented to any track teller and used to wager or exchanged for cash value. Voucher Redemption – Track Vouchers may be redeemed during normal track operating hours, generally between 12:30pm and 11:30pm. Expiration – Vouchers are good for one year from date of issuance.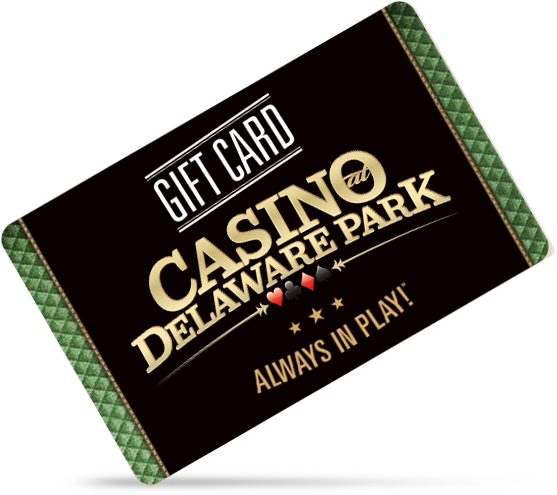 Available for almost any sized group featuring everything from gourmet dining to picnics in the park. Please call (302) 994-2521 ext. 7215 or (800) 351-7275 or e-mail us to plan your group outing at Delaware Park.

You can find your lost articles at the Security Office.
Delaware Park is a Non Smoking facility. Delaware Park has set aside conveniently located areas where smoking will be permitted.