We are Currently Seeking Friendly Service Oriented Professionals To Join Our Team!
Want to stay updated on new career opportunities as they become available? Job Shopper will browse our database of jobs and automatically email the matches to you. You won't find a more consistent and reliable resource anywhere.
$500 Signing Bonus!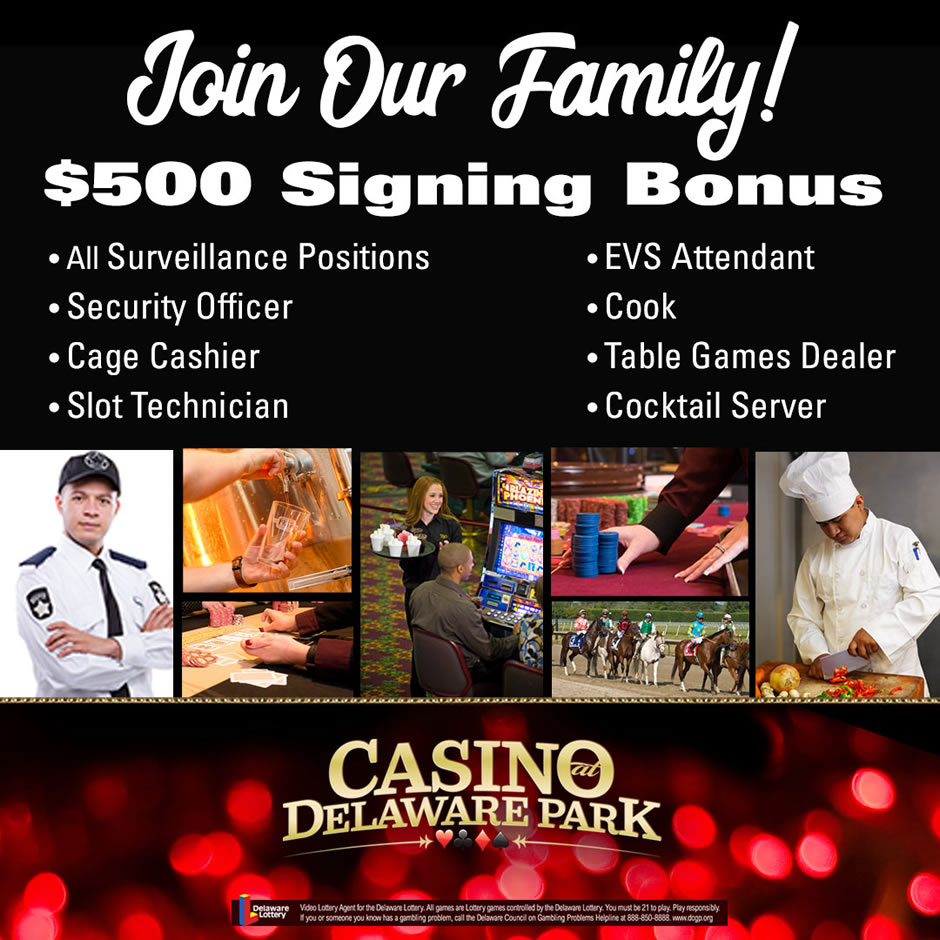 Looking for a great new opportunity?
Join our family at the Casino at Delaware Park for these awesome perks:
Medical, Vision, and Dental Insurance, 401(k) Matching, Life Insurance, Flexible Schedule and More!
Plus, join now and receive a $500 for select positions!
Apply today at delawareparkcareers.com!
This link (https://www.cigna.com/legal/compliance/machine-readable-files) leads to the machine readable files that are made available in response to the federal Transparency in Coverage Rule and includes negotiated service rates and out-of-network allowed amounts between health plans and healthcare providers. The machine-readable files are formatted to allow researchers, regulators, and application developers to more easily access and analyze data.
Delaware Park is committed to a policy of equal opportunity. In order to provide equal employment and advancement opportunities to all individuals, the company does not discriminate regarding race, color, religion, sex, national origin, age, mental or physical disability, veteran or family status, genetic information, criminal history, sexual orientation or any other status or condition protected by applicable federal, state, or local laws, except where a bona fide occupational qualification applies.
| | | | | |
| --- | --- | --- | --- | --- |
| | Full Time | Part Time | On Call | Seasonal |
Civic Duty Accommodation
Paid Time Off For Jury Duty, Military Service Time Off Is Offered From First Day Of Employment
√
√
√
√
Bereavement
Bereavement Pay Offered From First Day Of Employment
√
√
√
√
Direct Deposit
Save Time By Signing Up For Direct Deposit of Your Pay Check
√
√
√
√
Meal Discounts
Discounted Employee Meals At Our Employee Dining Room. 20% Off Offered At All Other Food & Beverage Locations
√
√
√
√
Free Uniforms
Uniforms Are Provided For Most Positions
√
√
√
√
Helping Hand Fund
Employee Assistance Program Available To All Employees From First Day Of Employment
√
√
√
√
401(k) (21 +)
Team Members Can Contribute 1% To 100% Of Their Eligible Pay to Our 401(k) Program. Delaware Park Does A Discretionary Match At The End Of Every Year Up To 6% Of Your Income
√
√
√
√
Get a Job/Get a Ride
Delaware Park Has A Partnership With DART To Provide Free Bus Transportation For The First 30 Days Of Employment
√
√
√
√
Colonial Life Group Insurance
Employee Are Eligible To Purchase Colonial Life Group Supramental Insurance Plans At A Discounted Rate
√
√
√
√
Paid Holidays
Delaware Park Offers 9 Paid Holiday Per Year
√
√
√
√
Annual Pay Increase
Annual Wage Increases Are Given On Your Anniversary Date
√
√
√
√
Short/Long Term Disability
Delaware Park Pays 100% Of A Short Term And Long Term Policy For Any Employee That Works Over 20 Hours A Week On Average
√
√
Life Insurance
Delaware Park Pays 100% Of A Life Insurance Policy That Cover One Year Of Pay (Max $50,000)
√
√
Paid Time Off
Vacation, Personal And Sick Time Is Available To Employees After 90 Days Of Employment
√
√
Medical Insurance
Medical Insurance Is Available After 90 Days Of Employment For You and Your Family. There Are 3 Different Plans To Choose From.
√
Vision Insurance
Vision Insurance Is Available After 90 Days Of Employment For You and Your Family.
√
Dental Insurance
Dental Insurance Is Available After 90 Days Of Employment For You and Your Family.
√
Benefits Are Subject To Change At Any Time. Contact A Recruiter For More Information About Any Benefits Offered. See Summary Plan Documents For Complete Details On Benefits.
Click here to view Jobs currently available at Delaware Park.