Community involvement is one of Delaware Park Casino & Racing's core beliefs.
We recently launched a new initiative that will feature a different organization each month to receive a cash contribution.
Our patrons are able to donate unused ticket vouchers to which Delaware Park Casino & Racing will add monies for donation.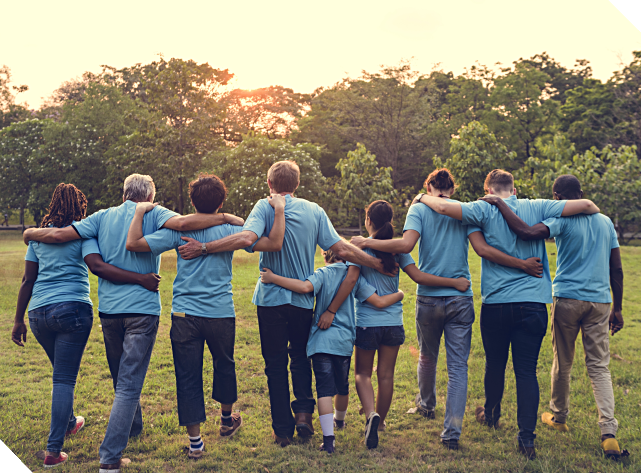 Delaware Park Casino & Racing encourages our Team to Volunteer.
Check out our recent activity and look for us at upcoming events. We are happy to be making a difference in our Community!
Delaware Park Casino & Racing has a long history of additional stewardship, as well, by supporting fundraising efforts in our community.
Over the years, we have donated to numerous organizations representing diverse interests throughout New Castle County and surrounding areas.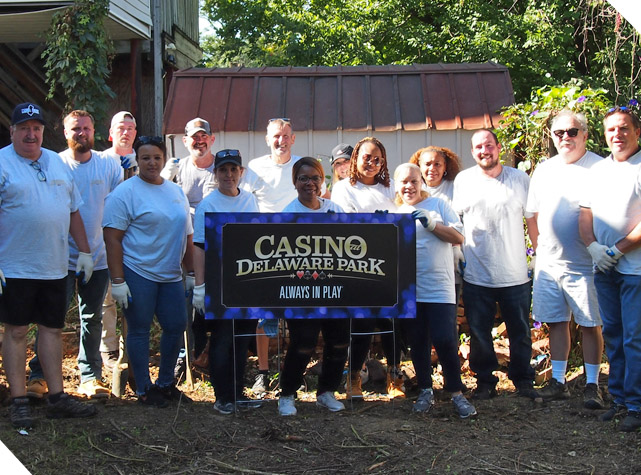 Delaware Park Casino & Racing Donates $6,000 to Delaware Breast Cancer Coalition Includes Donated Monies from Guests and a Large Cash Contribution from Casino Wilmington, DE, December 12, 2022 – Delaware Park Casino & Racing presented the Delaware Breast ...
Latest Contribution: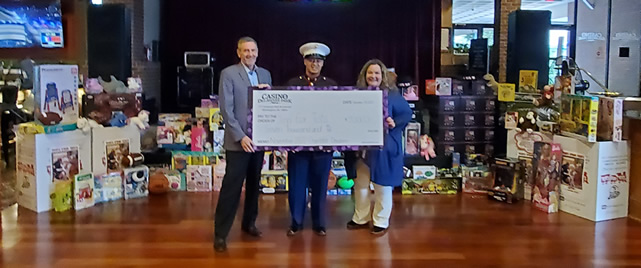 Pictured;   President & General Manager, Ron Baumann and Director of  HumanResources,  Kate Attarian present a check for $7,000.
©Delaware Park Casino & Racing 
Delaware Park Casino & Racing Donates $7,000 and
Hundreds of Toys to Marine Corps Reserve
Delaware Park Casino & Racing Donates $7,000 and Hundreds of New Toys
to the Marine Corps Reserve's Toys for Tots
Wilmington, DE, December 14, 2022 – Delaware Park Casino & Racing presented Toys for Tots with a check for $7,000 today, comprised of proceeds from unused slot vouchers and a large cash supplement from Delaware Park. Also donated: a vast amount of toys from a six-week collection period, graciously contributed by Casino guests, as well as 50 make-up kits and 50 basketballs, purchased by Delaware Park. Ron Baumann, President and General Manager of Delaware Park Casino & Racing said, "In the spirit of the season, our guest participation has been exemplary this month. We are so happy to help spread holiday cheer to local children via these gifts."
This year marks the 75th Anniversary of the toy collection program. Since 1947 The Marine Corps and Toys for Tots Has Been Making a Difference in the Lives of American Families. The primary goal of Marine Toys for Tots is, through the gift of a new toy, to help bring the joy of Christmas and send a message of hope to America's less fortunate children.
About Delaware Park
Delaware Park Casino & Racing offers exciting gaming action with the most in-demand slot machines and table games on two spacious levels, a Poker Room, full college and pro sports betting, many dining options, seasonal live Thoroughbred horse racing and year round simulcasting. Delaware Park is located minutes south of Wilmington and the Delaware Memorial Bridge and just north of the Maryland state line on I-95 at exit 4B. For more information, visit www.delawarepark.com.
Contact:
Jennifer Oberle-Howard (302) 355-1053 • jennifer.oberle@delawarepark.com
777 Delaware Park Boulevard, Wilmington, Delaware 19804 • www.delawarepark.com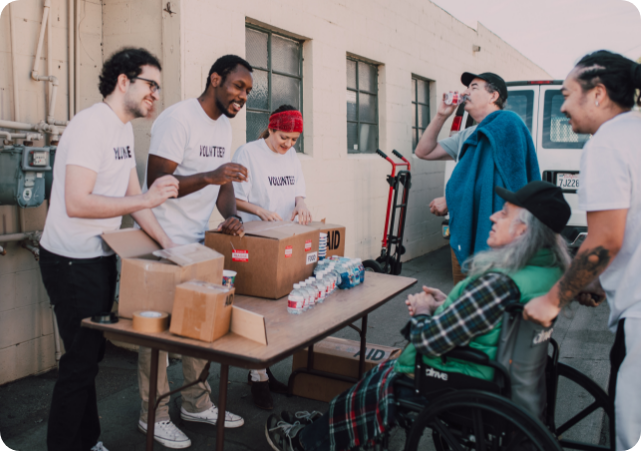 Join Delaware Park and together we can end senior hunger.
Meals On Wheels recipients are women and men, aged 60 and over, who often live alone.
Most are struggling on a fixed income, and are unable to shop or safely prepare meals for themselves.
There is no income requirement to qualify for Meals On Wheels programs.
For more information visit MealsOnWheelsDe.org.
DONATIONS
Join Delaware Park to help raise funds for Meals on Wheels.
We can accept Cash, Gaming Slips & Ticket Redemption Slips.
Boys & Girls Clubs of Delaware
OUR MISSION
Boys & Girls Clubs of Delaware is part of a nationwide movement whose mission is to inspire and enable all young people, especially those who need us most, to realize their full potential as productive, responsive, and caring citizens.
SERVICES
Childcare
Our before and after school childcare options allow working parents to have high quality care at an affordable price.
Programming
Our programs help youth to develop healthy habits and grow their minds to prepare them for great futures ahead.
Teen Programming
Our clubs offer a safe space for teens to go in order to provide them with resources and opportunities to grow.
For more information visit www.bgclubs.org